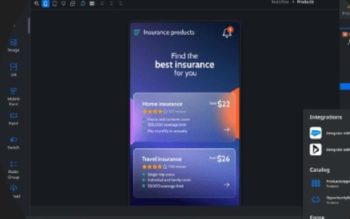 OutSystems, a provider specializing in low-code programming and also providing efficient programming solutions to many banks and financial service providers, has introduced a new AI system called "AI Mentor" that ensures increased developer productivity, code quality and reduced technical debt. The company is also expanding its low-code platform with a cloud-native development solution.
ANDIn occasion NextStep 2022 Conference OutSystems introduced its new AI system "AI Mentor". The enhanced solution offers a comprehensive set of AI-based development, security and quality analysis tools designed to provide users with in-depth support at the most critical stages of the software development lifecycle.
For more than four years, OutSystems has continuously integrated artificial intelligence into its platform and the entire software development lifecycle. This should make the software much faster. In addition, the AI ​​Mentor system aims to automate repetitive tasks and minimize and verify time-consuming work and work with so-called AI mentors. Each of these individual AI mentors serves as an assistant to developers and increases the efficiency of the development process.
The AI ​​Mentor system is like a team of experts that augments the team's collective expertise. OutSystems identifies potential problems and provides solutions to developers so they can focus on building great applications."
Gonçalo Gaiolas, Chief Product Officer at OutSystems
A quick overview of AI Mentor features
The OutSystems AI Mentor system is a further development of the previous Architecture Dashboard within the framework The OutSystems platform, which offers more robust features and integrates new, patented AI technology. The solution includes code mentors who anticipate the next step in programming and suggest the best option and insert it into the developer's code when needed.
In addition, there is an Architecture Mentor that reviews code for critical architectural standards, a Security Mentor that helps identify security gaps, and a Performance Mentor that is designed to help identify potential performance bottlenecks and ensure applications are consistently performing at their peak. efficiency. Finally, a Maintenance Mentor who examines the company's entire portfolio of applications and looks for opportunities to reduce technical debt. A type of AI-based development manager that checks application code for duplicate code and suggests ways to refactor applications.
Cloud development solution "OutSystems Developer Cloud"
In addition, OutSystems introduced its new cloud-native development solution "OutSystems Developer Cloud" (ODC). It is a low-code cloud-native application development solution that meets a wide range of software development needs, including building mission-critical applications.
Kubernetes, cloud-native and microservices are technologies that are very difficult for customers to master. A typical application platform takes months to years to implement and costs millions. With ODC, we relieve our customers of this complex preparatory work so that they can directly take advantage of new technologies and start developing their applications on day one."
Gonçalo Gaiolas, Chief Product Officer at OutSystems
Developers can use OutSystems as part of a free version try and experience the new features firsthand. OutSystems provides NextStep virtual conference streams on request on.partly